Oct 2018 – Aug 2019 Long-Term Missions Trip

If you're interested in partnering with me and supporting me financially, you can donate here.  My goal is to spend 6 days focused on volunteer work and 1 day to rest.   As I go and help others around the world, I would like to add you to the mailing list so you can experience first hand the impact of your donations.
Donations towards my fundraiser (totaling $18,100 USD) will cover: food, lodging, air, land, and sea travel, health insurance, administrative, set up, coaching, debrief, and training costs.  What it doesn't cover are my flights are travel to training camp, travel to the start point, return travel home from a major U.S. city at the conclusion of the missions trip, and vaccinations.  I also have 4 sponsored kids ($170 per month) I like to continue sponsoring over the 11 months of volunteer work:
Kwangu (Tanzania), Mahesa (Indonesia), Rosa (Togo), Marian (Philippines)


You can help support me with a tax deductible one-time donation or a monthly donation.  If you'd like to do monthly donations, I'd suggest an end date of August 2019 when my mission trip is complete!
If you want more information about Adventures in Missions tax deductible donations, click here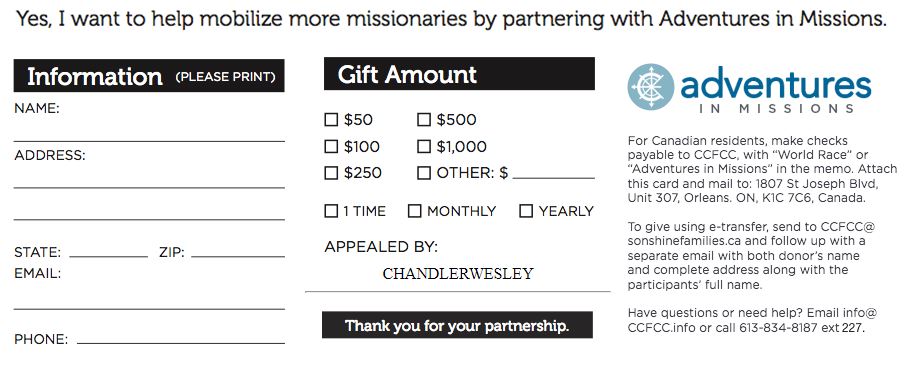 How to support me in prayer:
If you like to support me in prayer, please contact me.  As I will be reducing all of personal belongings into a backpack and traveling the world to rural villages for 11 months, there are multiple dangers and obstacles ahead of me.  I will need specific prayer in these categories:
Proper preparation of missions trip

Fundraising and Financial Needs
Vaccinations and Safe Travels
Food poisoning and mosquito contracted diseases
To be used most effectively to help others
To have the wisdom and the spirit to share the Gospel with others